Badges can help make a great impression and improve security by ensuring everyone on site has signed in. Using compatible Brother printers this is a really simple process. Our badge builder allows you to customise the content and design of your badges to print on your choice of adhesive or non-adhesive labels. If you would like to read more about badge-builder click here.
Setting up site template
The site template is the default badge that will be printed when visitors sign into the app. You can customise this from Manage > Sites > Select site > Badges and then click the picture of the badge.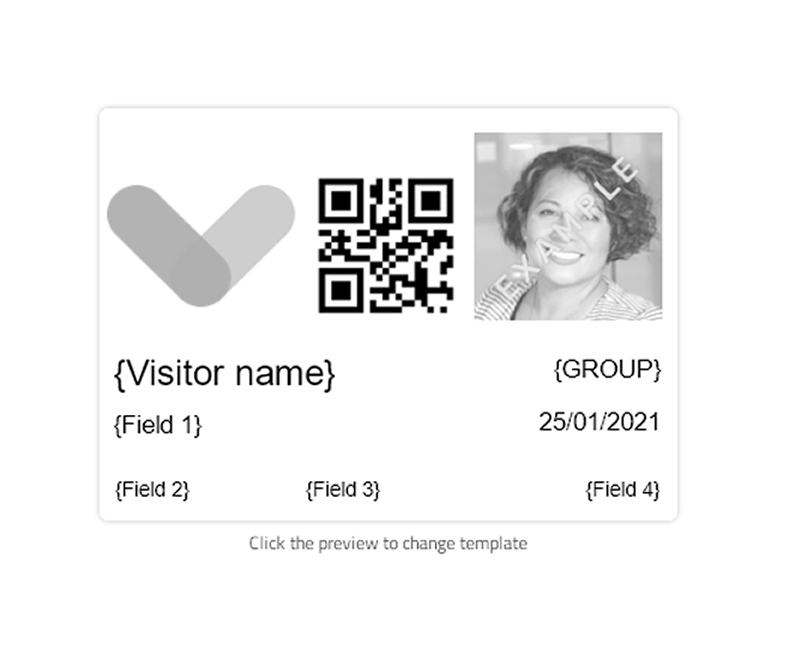 Tip
On the badge builder, the Field option relates to your custom fields. Field 1 is the first field applied to the group the badge is being printed for. You can check your custom fields by going to Manage > Sites > Select site > Custom fields.
Setting up a group-specific template
From Manage > Groups > Select group > Badges, you can pick a template for a specific group. Badges set for groups will override the site template.
QR codes
QR codes can be printed on both standard and repeat visitor badges.
Tip
For standard visitors, a badge will be printed for each sign in. If you want a badge printing for repeat visitors each time they sign in, you will need to enable this. To do this, go to Manage > Groups > Select group > Sign in options and turn on Print a badge for each sign in.
Troubleshooting
There are two types of media supported by compatible Brother printers, sticky media (62mm) and plain paper (54mm). If your printed badge size isn't right or doesn't fit your badge holders, it might be that the template selected on the badge builder isn't the correct size for the media you are using. Both Sticky and Plain paper badges are 88mm wide.
Using a 62mm template on non-adhesive 54mm height labels will cause the badge to be cut shorter than expected.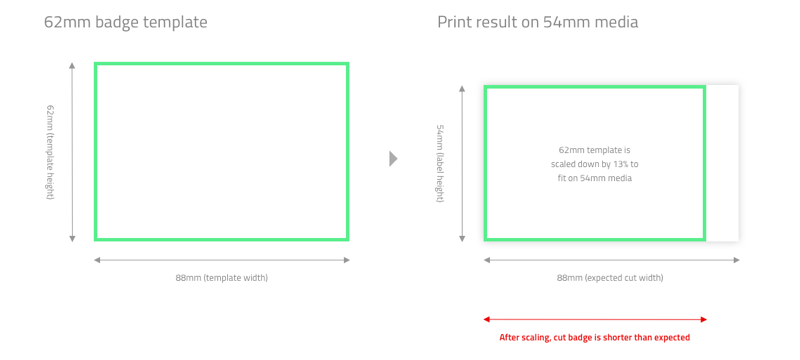 Using a 54mm template on sticky 62mm height labels will cause the badge to be longer than expected. If your badge doesn't fit in the badge holder, this is often the issue.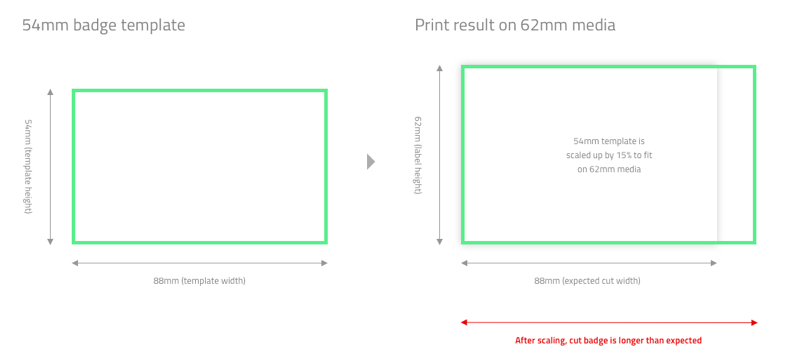 Ensure that the template in the badge builder is aligned with the type of media you are using.
Turning off template mode
(QL-820NWB Only) - Recommended
Brother's QL-820NWB has a mode enabled as standard which can interfere with the smooth operation of Sign In App, so we recommend you turn this mode off as soon as you can.
Press the Menu button on the printer, then use the up or down arrow keys to cycle through until you reach Template Settings.
Press OK and then scroll to select Template Mode.
Use the arrow keys and OK button to set this to OFF and use the Menu button to return to where the date and time are shown.
Important
If you ever see a message on the screen saying that the print roll is an incorrect size, it will be because Template Mode is ON. Follow the steps above to clear the message and prevent it showing in the future.
We hope you've found this guide useful but if you have any questions please contact our support team at support@signinapp.com.